Can I spell check my crossword?
Unfortunately, EclipseCrossword does not currently include spell check functionality. However, if you have a word processor such as Microsoft Word on your computer, you can use that to check your spelling.
Step 1—Create or open your crossword puzzle
First, create a puzzle, or open an existing one.
Step 2—Open the publishing options
From the page where you can preview your puzzle, click Next to get to the page with the saving and printing options. (If you just created this puzzle, be sure to click Save crossword to save it before you continue, if you ever want to be able to make changes.) Then, click the Publish crossword tab to get to the publishing options, where you can save files that you can open in other software.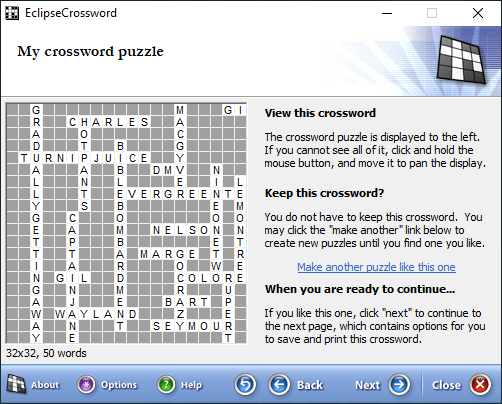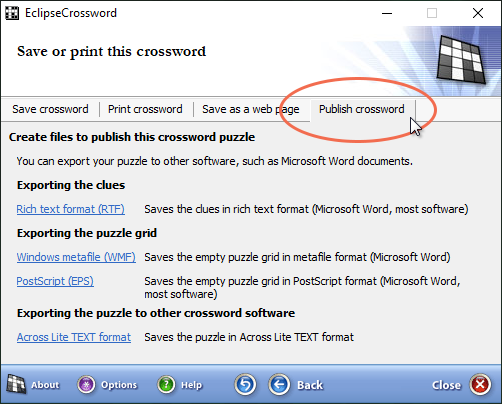 Step 3—Export the clues
Next, you'll want to save a copy of the clues for this puzzle in Rich Text Format, which almost all word processing and desktop publishing software for Windows can open. Click Rich Text Format (RTF) to save a copy of the clues in this format. Choose a file name and save your file in a place where you can find it later, and then click Save.
Step 4—Open the clues in Word
Now you can open the copy of the clues that you just saved in Word. Find the file you just saved in step 3, and double-click on it to open it.
Now that your words and clues are in Microsoft Word, you can spell check them just like any other document. If you need to make corrections, you can change your word list.
See also
You may also have searched for: Can I check the spelling of words and clues in my puzzle?