Printing to a different printer
When you print from EclipseCrossword, it always prints to your default printer. Most people only have one printer, so this is what you generally want. However, if you're at a work or school computer and have more than one printer available, you might want to change the printer to which EclipseCrossword will print. Here's how.
How to tell which printer EclipseCrossword will print to
You may not need to change anything. On the Print crossword tab, where you'll go to print your puzzle, EclipseCrossword tells you which printer it's going to print to, so check this. If it's the printer that you want to print to, you don't need to do anything. Just print normally.

Changing the default printer
If the listed printer isn't the one you want, you'll need to change the default printer before you print.
Exit EclipseCrossword by clicking Close. If you haven't saved what you're working on, be sure to save first.
Open the Printers control panel.

On Windows 8 or 10, open the Start menu, type "printer", and then click Change default printer.
On Windows Vista or 7, open the Start menu, and then click Printers.
On extremely old versions of Windows, you'll need to click Settings before you click Printers.

Find the printer you want to use. Right-click on the printer and click Set as default printer.

If you want to print to a network printer at school or work, and you've never used that printer before, you'll need to add it first. If you're not sure about the name of the printer or how to add it, you'll need to contact your IT department.

Close the Printers control panel.
Start EclipseCrossword again and open the puzzle you want to print.
The new printer should be listed on the Print crossword tab, and you're ready to print.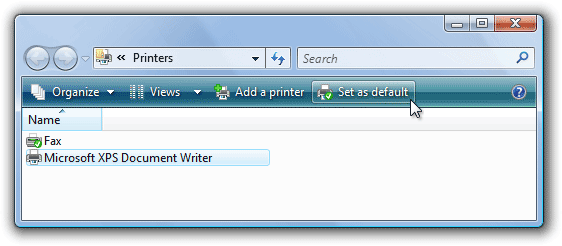 You may also have searched for: Can I change the default printer to a shared network printer?